Whether it's a trip to Germany for the traditionalists or a visit to London's Winter Wonderland for families, whatever you are looking for there's a perfect Christmas market for you - and we've explored 65 of the best! 
Continue reading as we rank the best Christmas markets across the UK and Europe, revealing the most popular on Instagram and those with budget-friendly hotels.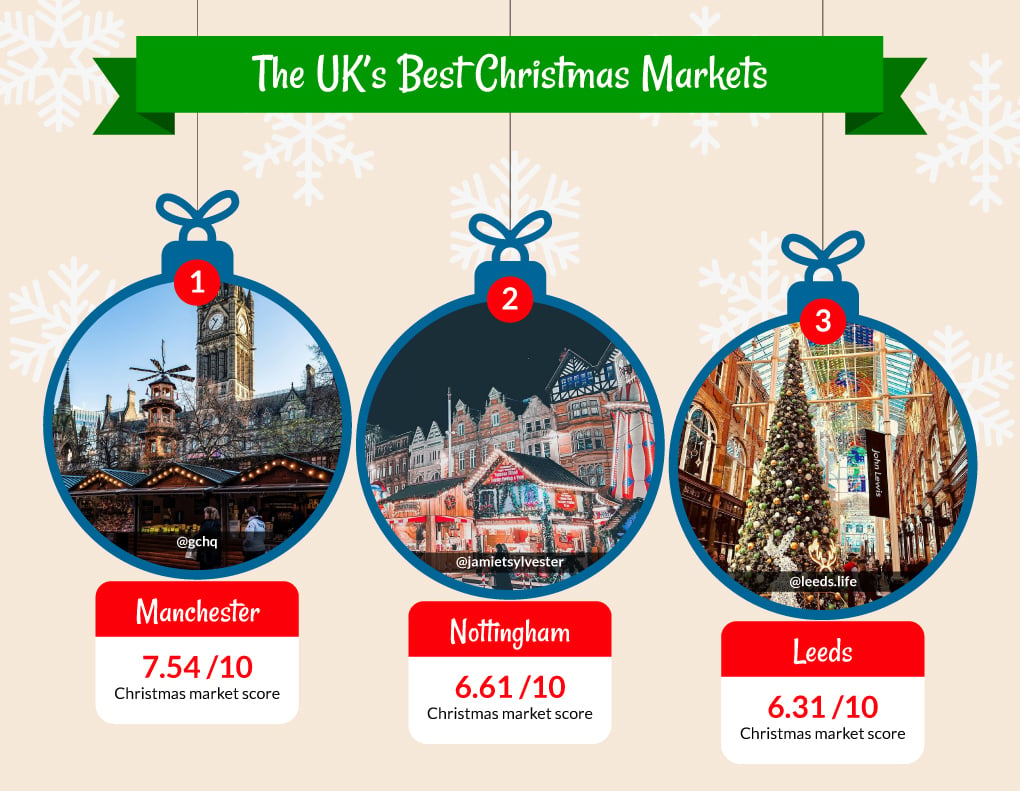 Manchester - Christmas Market Score 7.54 /10
Ranking within the top three Christmas markets for two years running, Manchester is a must-visit. Last Christmas, Manchester missed out on the top spot to Edinburgh but this year the famous Northern market has come out on top. The city's Christmas market is searched for some 60,000 times on Google during the festive season and is also popular on Instagram with an average of over 8,000 mentions per month. The great news is that this market can be enjoyed from November for 40 days!
Nottingham - Christmas Market Score 6.61 /10
Nottingham takes the second position as the best Christmas market in the UK. Visitors to Nottingham's Christmas market can expect to see a 60ft giant Christmas tree and several charming wooden stalls. Running for 46 days there's plenty of time to enjoy all this market has to offer, and it's affordable if you're looking to stay the night too. With prices for a 3* hotel averaging at around £89, it's perfect for those on a budget.
Leeds - Christmas Market Score 6.31 /10
Taking the third position is the Leeds Christmas market which will run from November 15th for 43 days. The Christmas market is home to plenty of festively decorated stalls with many offering delicious food and drink. Leeds Christmas market is a popular one too, with over 6,000 searches per month on Google and over 4,000 tags on Instagram.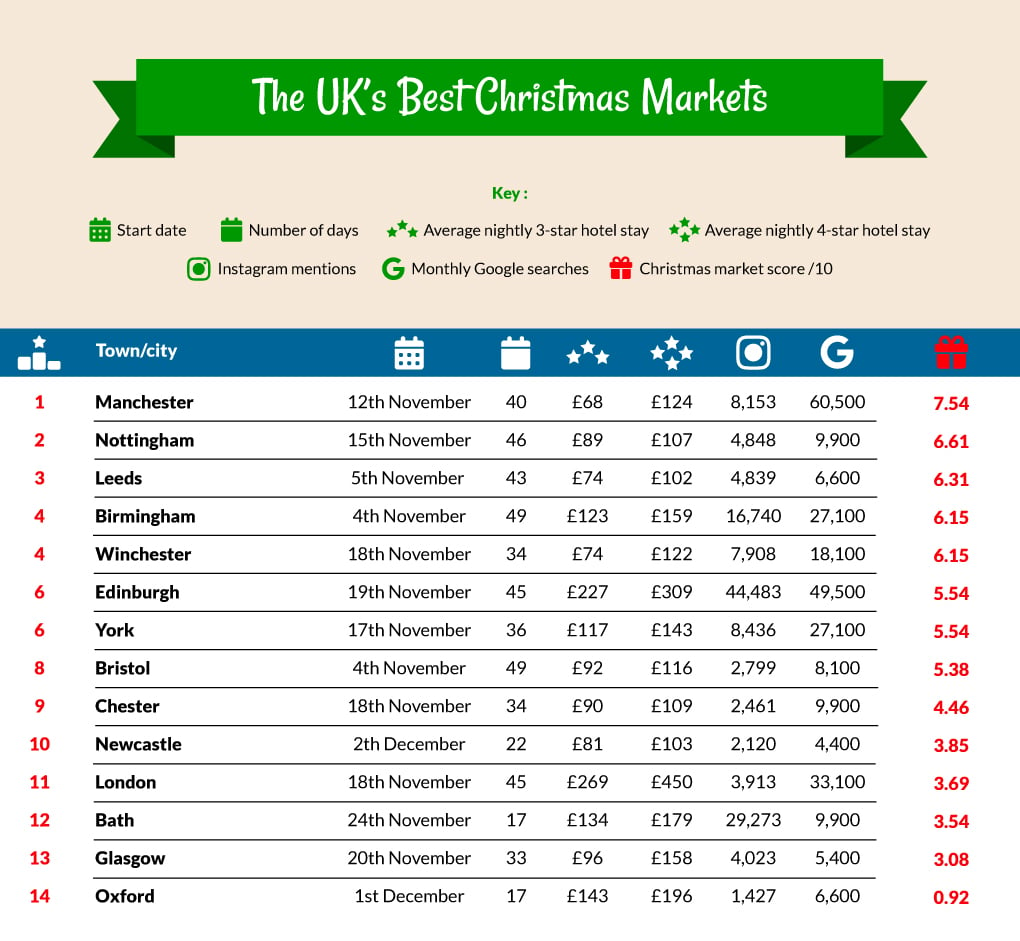 The UK's Festive Favourites
From the Christmas markets that run for the longest time to the places with the most affordable accommodation, we've taken a closer look at the finer details just for you, to ensure a magical trip.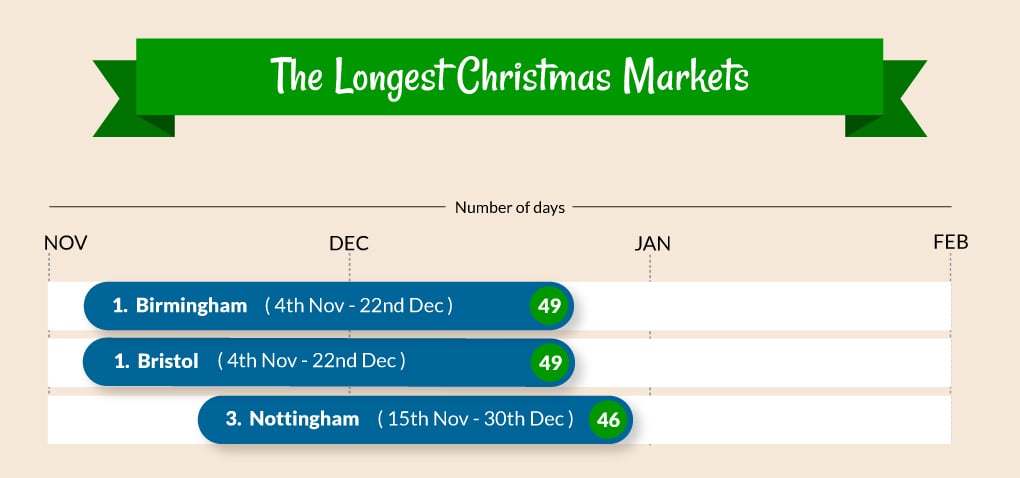 There's plenty of time to enjoy the Christmas markets in 2022 with several running for over 40 days and some into January, so no need to worry just select a date that works for you!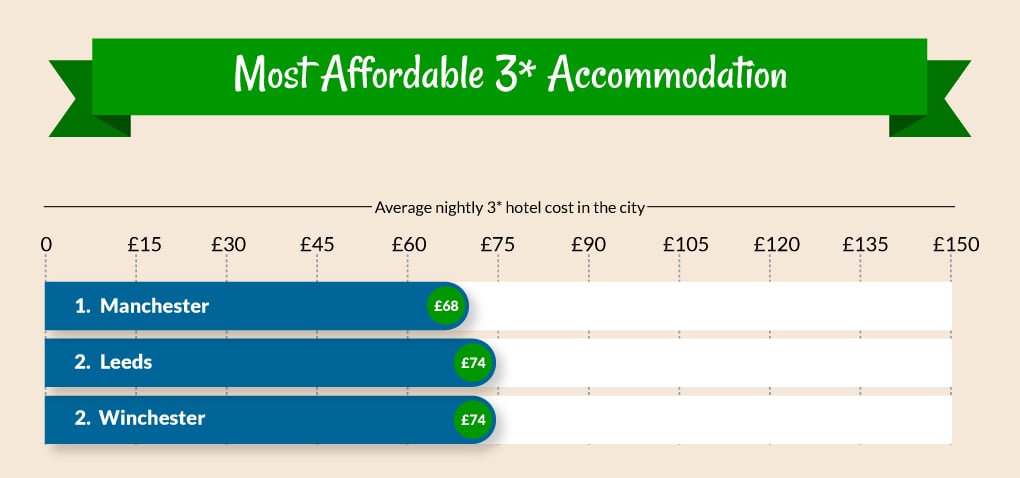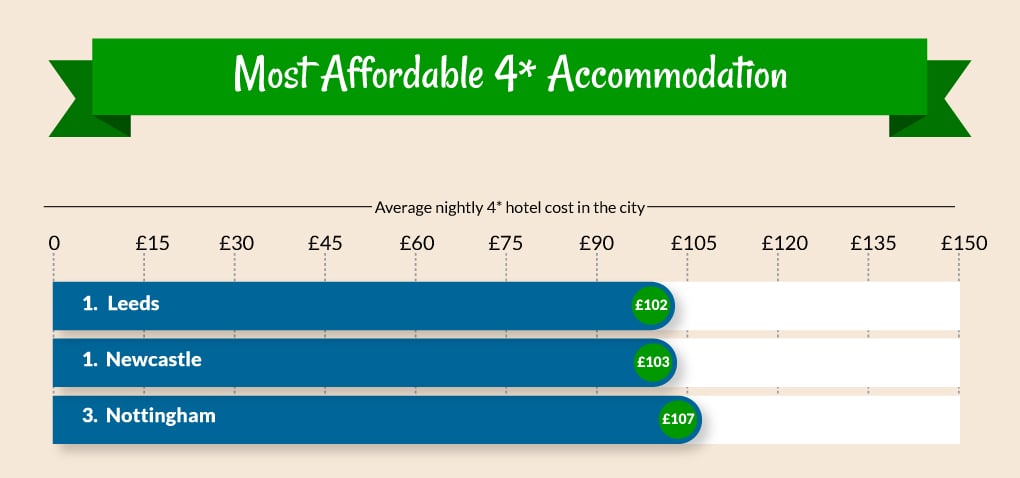 With prices averaging as little as £68 per night for a 3* hotel in the UK there's accommodation for every budget, so you can enjoy all the Christmas markets have to offer well into the evening.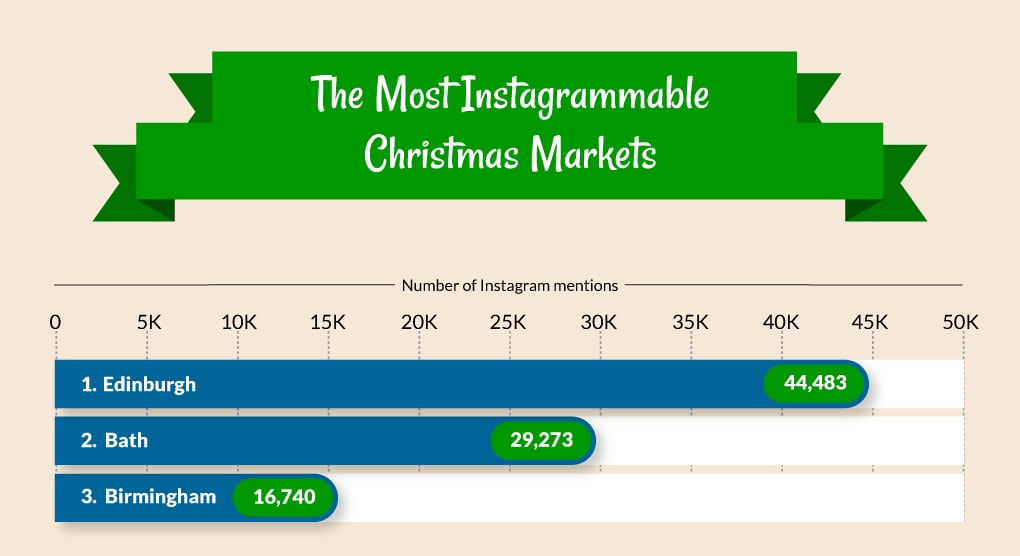 Before you select your chosen Christmas market head over to Instagram and check out past pictures to ensure you visit the most picture-perfect spots. With over 44,000 tagged posts for Edinburgh alone, there's plenty of inspo.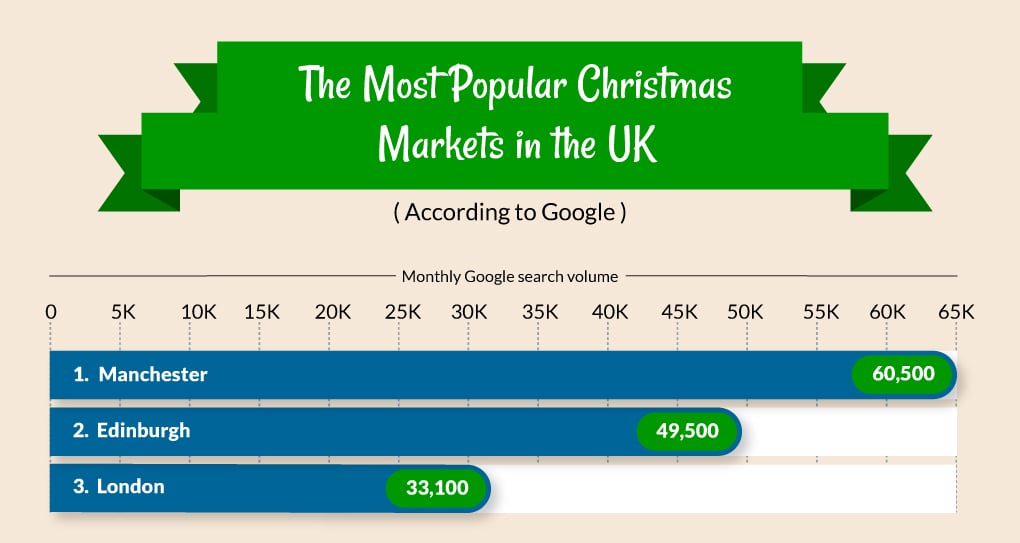 Be sure to do your research before heading to any Christmas market, and ensure you make the most of the day. Pre-planners, you're not alone! Manchester Christmas market has over 60,000 monthly average searches throughout the festive period according to Google search data.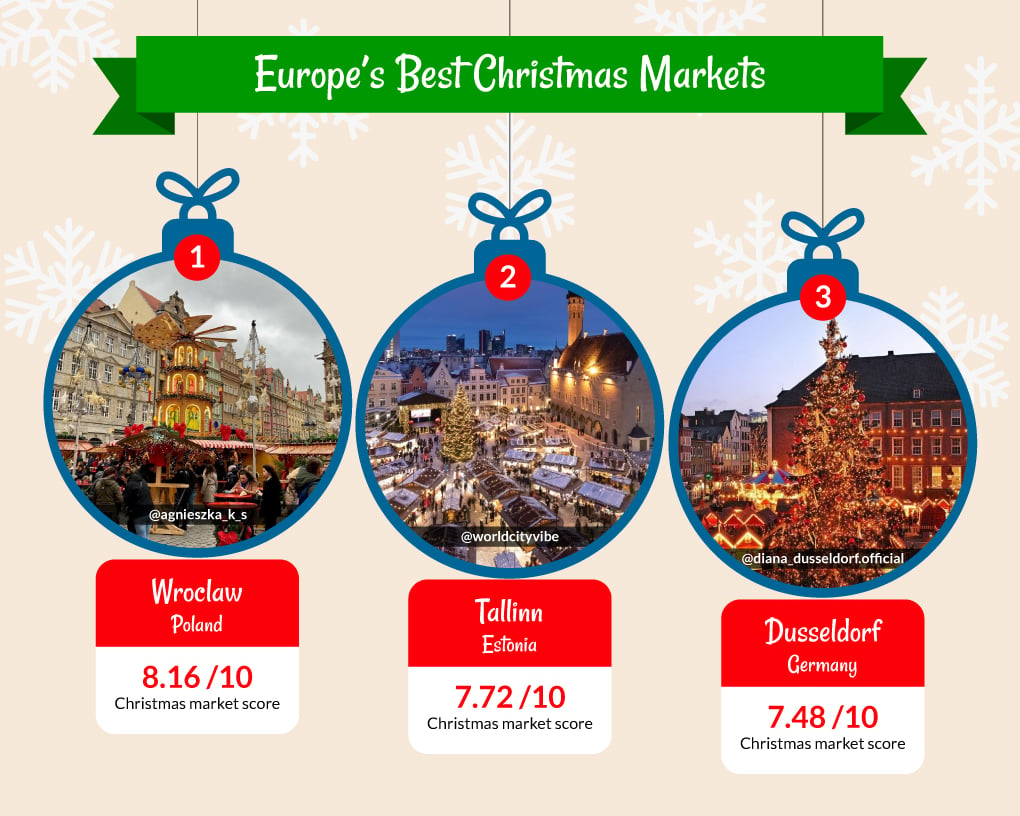 Wroclaw, Poland - Christmas Market Score 8.16
Described as one of the most beautiful Christmas markets in Europe it's no surprise that Wroclaw tops our list. Set in the winter wonderland of Poland this is the perfect setting for those looking to immerse themselves in the Christmas spirit. The location also offers some of the most affordable accommodations and the market can be enjoyed for 43 days. 
Tallinn, Estonia - Christmas Market Score 7.72
One of the more modern Christmas markets on the list, Tallinn in Estonia offers a snowy wonderland for visitors to enjoy. The Christmas market runs for 44 days and is popular on Instagram with over 4,000 mentions. 
Dusseldorf, Germany - Christmas Market Score 7.48
Taking the third position is Dusseldorf in Germany, offering what feels like several markets in one location due to the different Christmas worlds offered. This is a must-see, but make sure you practise your skating beforehand, as visitors can take to the 1,700sq metre ice rink this year! Open for 43 days there's plenty of time to explore the many worlds, and with over 4,000 average monthly searches it is sure to be popular.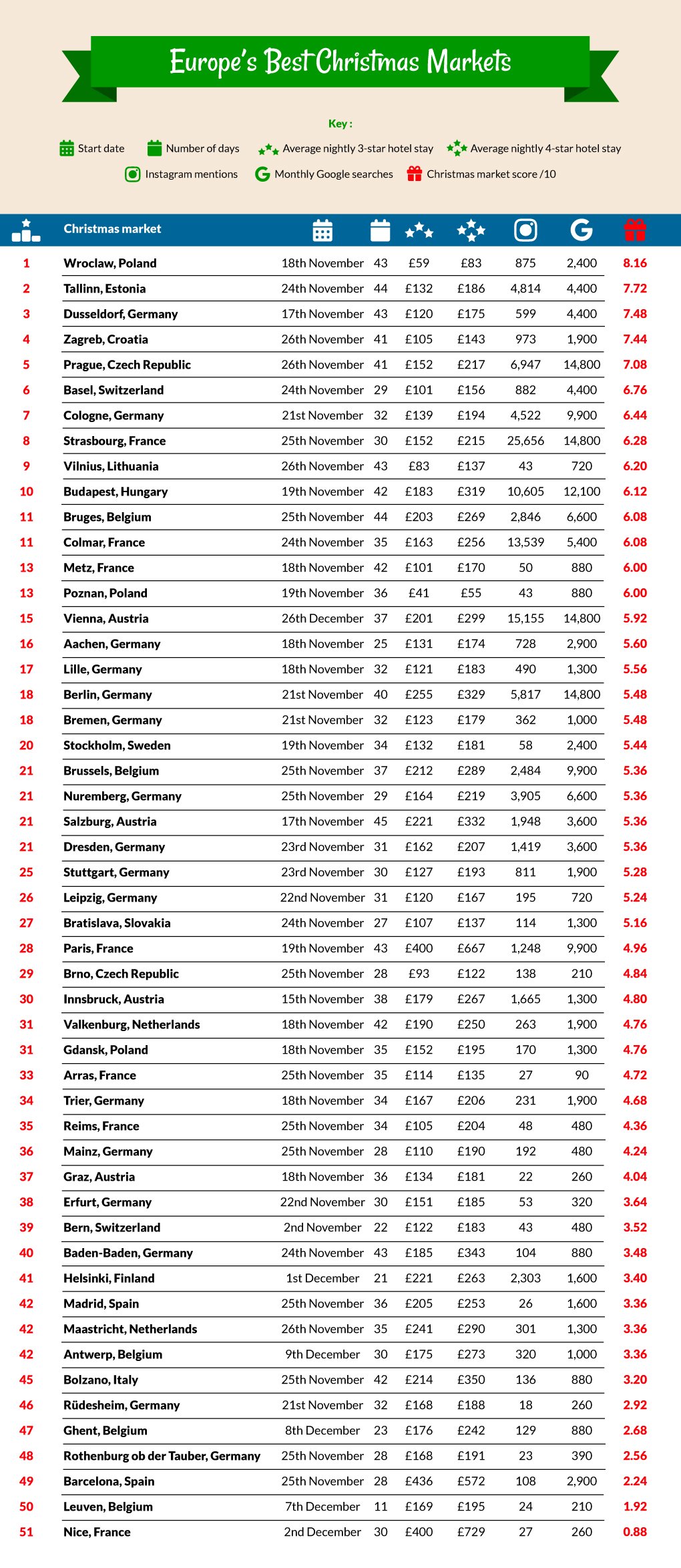 Europe's Festive Favourites
With Christmas markets running for over 40 days and others offering picture-perfect moments we have explored the data further to ensure your trip to Europe's markets is one you won't forget.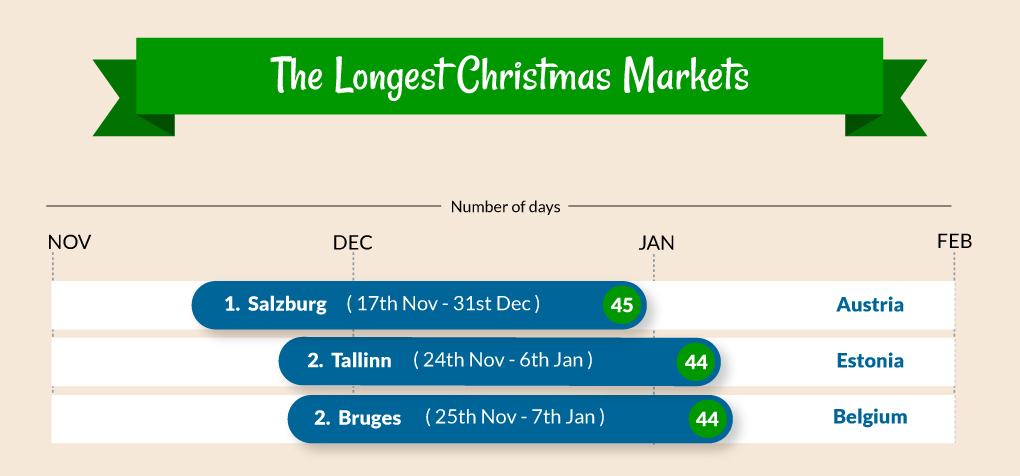 Christmas markets can be enjoyed for longer than just December with many open for over 40 days, so don't worry if December is looking busy. Visiting in November or even January can be just as festive - if you fancy keeping the festivities alive into the new year that is.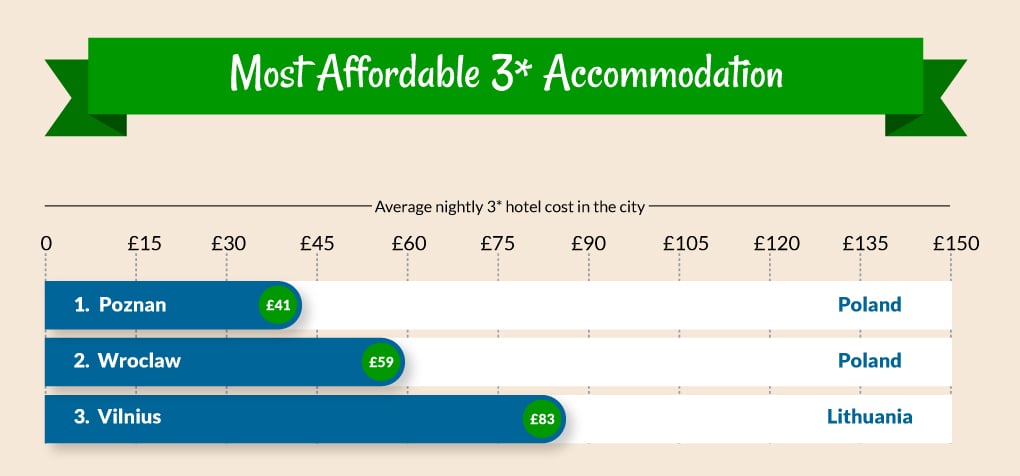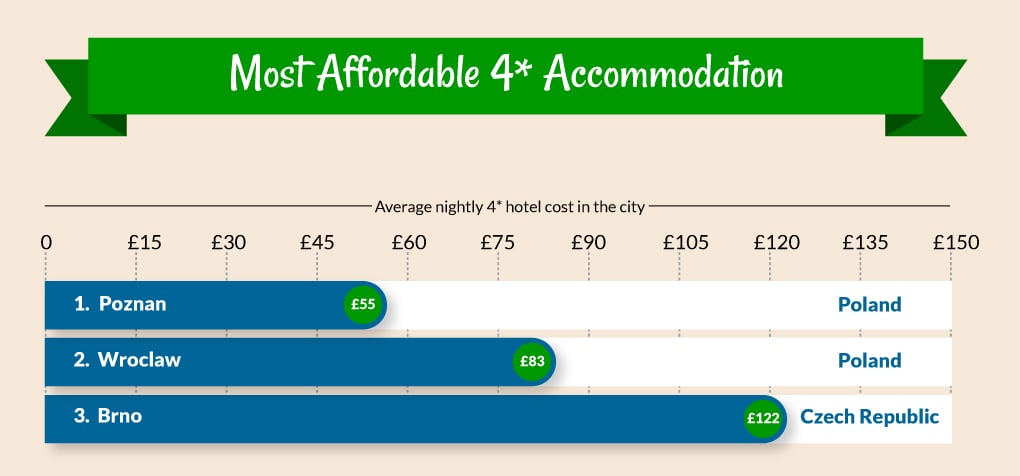 There are plenty of Christmas markets that can be enjoyed on a budget with many on the list having average 3* hotel prices from as little as £41.00.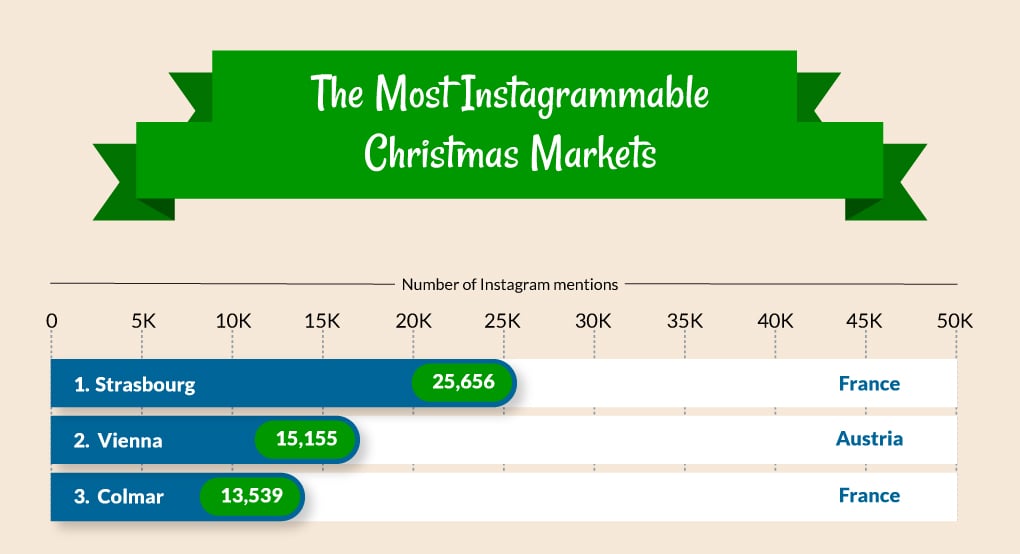 If you're looking for Christmas markets fit for the grid then look no further we have a great selection for you, with Strasbourg in France gaining more than 25,000 mentions.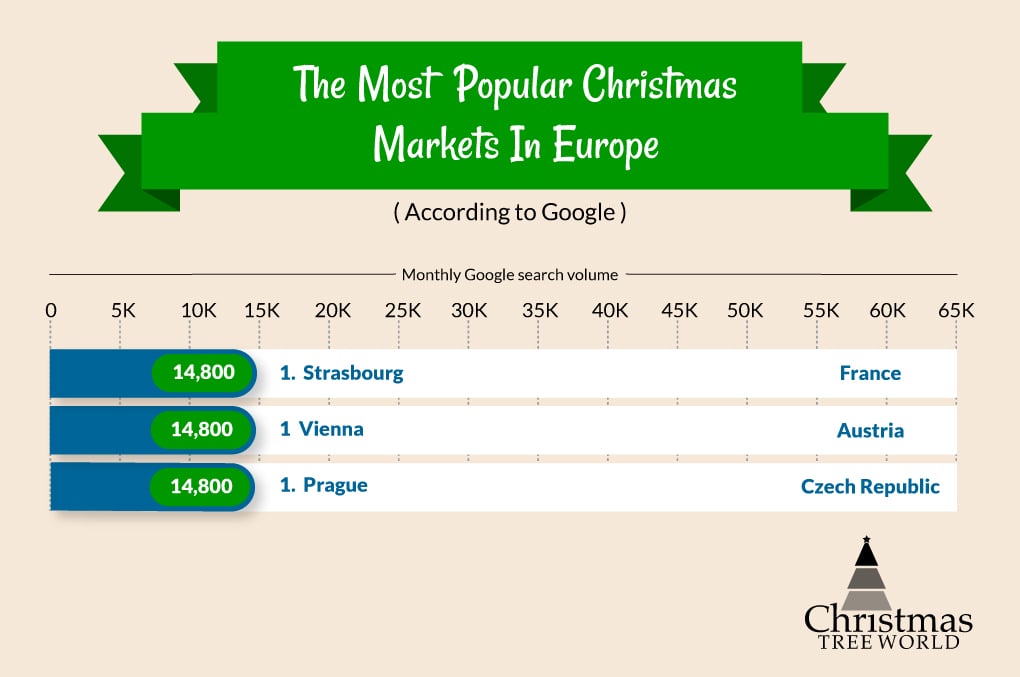 Europe is home to so many magical Christmas markets that there isn't just one most popular according to Google search data. Strasbourg, Vienna and Prague all offer experiences worthy of taking the top spot, so where will you be heading this festive season?
Methodology
We collected a comprehensive list of 65 Christmas markets throughout Europe and sourced data on a number of factors to find out the best Christmas market in Europe.
Number of Days On For - Sourced from

 

Christmas Markets in Europe

 

and

 

European Best Destinations.
Monthly Search Volume - sourced from Google Keyword Planner.
The average price of a 3 and 4-star hotel for a night in the city - is sourced from Booking.com which uses an average of

 

Booking.com

 

prices of rooms listed on the site.
The number of Instagram Mentions - sourced from Instagram.
Each market was given a normalised score out of 10 for each of the above factors, before an average of these four scores was taken for the overall Christmas Market score out of 10.